Industrial and Commercial Insulation Contractor specializing in insulation of piping, boilers, ductwork, and refrigeration equipment, based in Spartanburg South Carolina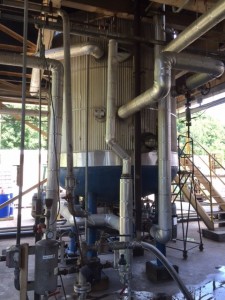 Since 2001, Finley Insulators has been your local, family-owned and -operated industrial insulation contracting company, proudly serving Spartanburg and the surrounding areas with professional, prompt and reliable services. With over 40 years of experience in the industry, Finley Insulators has the knowledge and expertise to complete your project in a timely and efficient manner.
Pipe Insulation Contractors Spartanburg SC
When it comes to insulation in an industrial setting, no one knows the importance of proper installation, care and maintenance quite like Finley Insulators. For over a decade we've been helping businesses and manufacturing companies assess and take control over their insulation needs in a variety of settings—from insulating pipes and boilers to retrofitting ductwork and more. When it comes to commercial HVAC and plumbing, as well as the important insulation that protects them, we're your most trusted source for quality work, done right. And, thanks to our expansive portfolio and core competencies, we're able to meet even the highest standards for service across a wide variety of project scopes.
If you're looking for pipe insulation contractors in Spartanburg, SC that are going to give you comprehensive results at an affordable cost, you'll quickly see why Finley Insulators is at the top of the list. We take it upon ourselves to approach every jobsite with fresh eyes and a true understanding of the needs of our clients, which means better, more sustainable results all around. We take pride in the work we do and the level to which we do it, which means you're guaranteed excellent as soon as we step on the jobsite. Take a look at just a few more reasons why we're the most trusted pipe insulation contractors in Spartanburg, SC for commercial HVAC and plumbing:
We offer complete commercial and industrial pipe duct, boiler and equipment insulation.
We have more than 40 years of industry experience.
Our rates are affordable and competitive, to meet your budget and timeline.
We're a locally owned and operated, family business.
We serve a huge area, including Spartanburg, Greenville, Cherokee, Laurens and Union Counties.